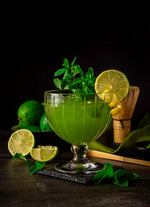 INGREDIENTS:
½ teaspoon (1g) of SAYURI

 

Matcha
Gin15ml
Tonic Water

15ml of Honey or Agave

15ml of Lime Juice

 

Ice
RECIPE:
Add the whisked matcha, gin, tonic water, honey or agave, lime juice and ice into a cocktail shaker.
*Sift the matcha powder to remove any clumps.
Shake well and serve into a glass.
Garnish with a lime slice.
Take a moment. Breathe. And enjoy your cocktail.