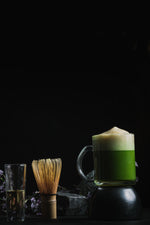 INGREDIENTS:
2 tea spoons of matcha powder
¼ tea spoons of organic turmeric
Pinch of black pepper (helps to activate turmeric)
¼ cup hot water
1 ½  cups non-dairy milk
1 tea spoon coconut oil
1- 2 tea spoons of sweetener (coconut sugar, maple syrup, honey
RECIPE:
Purify the utensils.


Add hot water to your chawan and moisten the chasen, empty the chawan and wipe dry.


Add 2 grams or 2 scoops matcha powder using the chashaku.


Add 70ml of hot water and slowly stir to whisk.


Whisk vigorously in a V motion snapping your wrists.


After 20 sec of whisking, gently lift the chashaku from the center of the bowl.


Add your steamed turmeric milk.


Top off with an extra dash of matcha.
And enjoy your daily tea ritual by SAYURI matcha!