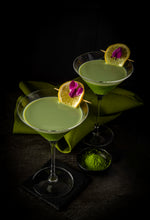 INGREDIENTS:
1 teaspoon (2g) of SAYURI

 

Matcha
10ml Dry Vermouth
40ml White Chocolate Liqueur
50ml Water
Ice


RECIPE:
Add the whisked matcha, vodka or gin, dry vermouth, white chocolate liqueur and ice into a cocktail shaker.
Shake well and strain into a glass. 
Decorate with a slice of lemon or a sprinkle of matcha on top. 
Take a moment. Breathe. And enjoy your cocktail.