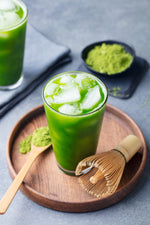 Ingredients:
80 ml of soft, filtered or bottled spring water in 70-80 °C temperature
1.5 teaspoon (3g) of Wabi Sabi, Everyday or

 

All Natural Matcha
4 to 5 ice cubes
1 teaspoon honey or agave syrup or cinnamon 
Recipe:
Scoop one teaspoon (3g) of matcha powder.
*3 spoonfuls when using a chashaku - bamboo scoop.


Using a tea strainer, sift the matcha powder into your tea bowl to get rid of any clumps.



Boil soft, filtered or bottled spring water and cool water to 

80°C.


Pour 80ml of hot water into the tea bowl.


Whisk vigorously for 20s using the chasen - bamboo whisk.
Move the chasen in a back and forth motion (drawing a "W" shape) using your wrist.


Add more water to your liking.


Pour the whisked matcha into a glass full of ice.
Enjoy the pure goodness of straight iced matcha.


Take a moment. Breathe.
And enjoy your daily tea ritual by SAYURI matcha!